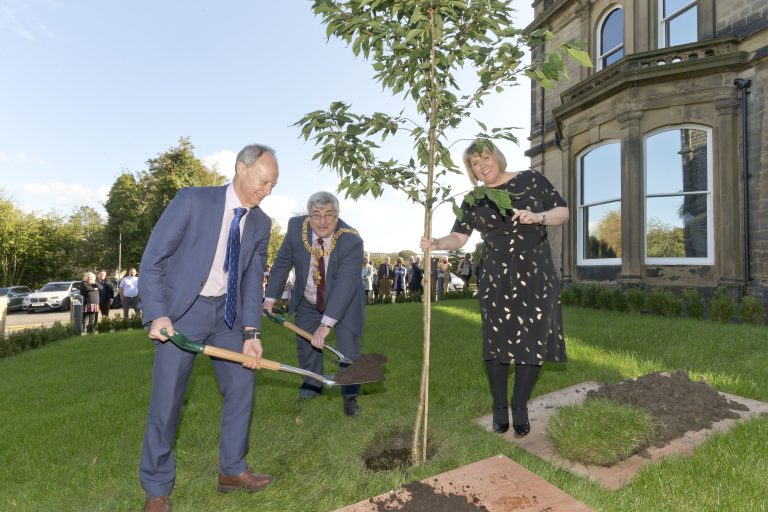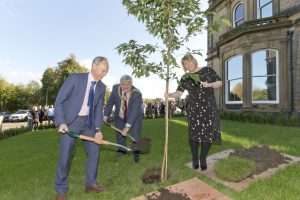 Enhanced Community Healthcare Options (ECHO) is celebrating the grand opening of its new specialist care facility, Malsis Hall, in Glusburn.
Paul Shevlin, Chief Executive of Craven District Council planted a cherry tree in the grounds to mark the occasion.
The Grade II listed building has been converted from Malsis School, which closed its doors in 2014, into a care centre designed to provide recovery and rehabilitation for people with mental health conditions.
The service, which will be accepting referrals from Local Authorities and the NHS within a 30-mile radius, will create 130 jobs in the local area.
Guests at the opening ceremony were given a tour of the facilities, which include residential suites and apartments, communal areas, community meeting rooms, three sports pitches and a sports pavilion.
Lisa Gardner, Service Director at Malsis Hall said: "We were delighted to welcome Mr Shevlin to officially open Malsis Hall. It's a beautiful historic building with some fantastic amenities which we hope will become a hub for the local community."
Andrew Shelton-Murray, Director of ECHO, said: "Renovating Malsis School into a specialist care facility has been a labour of love for our team. We are delighted that it's now opened to receive referrals, and ready for local residents to come along and visit us, to make use of our meeting rooms and sports pitches.
"We're also pleased to have been able to create 130 jobs for people in the region. Our aim has always been to provide a local service for local people by local people, and I'm happy to say that we are achieving this already."
Paul Shevlin, Chief Executive of Craven District Council, said: "I'm delighted to see this magnificent Grade II listed building brought back into use for such a worthy cause. This new centre will benefit many people and provide employment within Craven.
"It's also fantastic that Craven District Council has secured the retention and upgrade of the surrounding playing fields and clubhouse to provide brilliant new football facilities for Sutton Juniors and other community football clubs in the area."
ENDS
ISSUED ON BEHALF OF ENHANCED COMMUNITY HEALTHCARE OPTIONS (ECHO)
Contact: Caroline Walker on 01325 363436
Photo caption: Paul Shevlin, Chief Executive of Craven District Council plants a tree to commemorate the opening with Peter Corkindale, Mayor of nearby Keighley and Lisa Gardner, Service Director at Malsis Hall
Notes to Editors
Malsis Hall is a specialist service holistically supporting adults with mental health conditions on their journey to recovery and independence. It strives to provide care and support to enable the person to be as independent as they possibly can be, helping them to have a clear care pathway back into the community
It provides opportunities to develop and maintain skills and coping strategies needed for everyday life, priding itself on early intervention. The pathway at Malsis Hall ensures the person builds and develops confidence enabling them to successfully progress down the various available living options onsite to living in the community.
Malsis Hall places emphasis on maximising quality of life and reducing admissions into acute hospital settings.
As a community project, it also contains three sports pitches, a sports pavilion and meeting rooms available to members of the public.